World player of the year Cristiano Ronaldo finally found a style that was good luck for scoring. He gave Portugal a 2-1 win over Ghana when he slammed home the ball with his left foot in the 80th minute.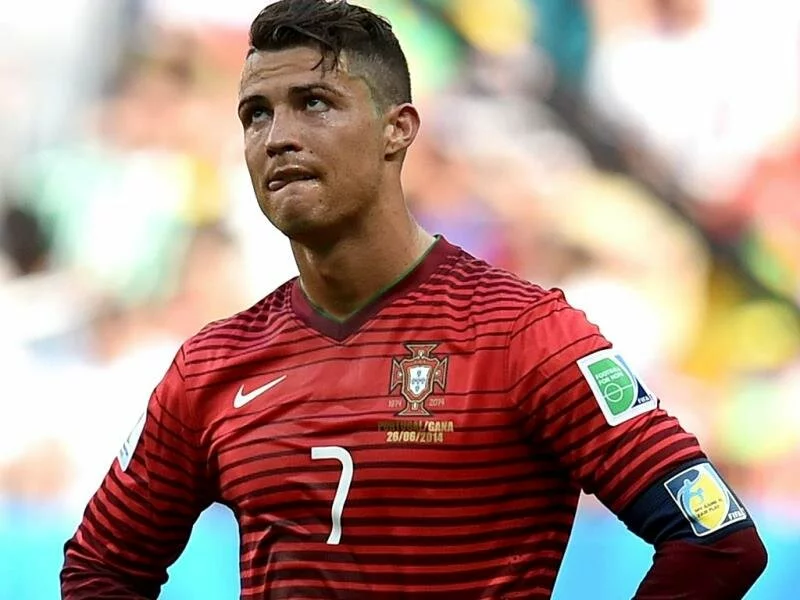 World Player of the Year Cristiano Ronaldo sports a new hairstyle for the Portugal vs Ghana match on Thursday. (AP Photo)
It was his first goal of this year's tournament, but third different haircut. Thursday's edition had the sides shaved down close with a line carved along one edge of a short Mohawk.
Ronaldo won't get to show off any other on-field hairdos at this World Cup: Portugal was eliminated.
SUAREZ BIT ME!
Adidas ad featuring Uruguay's striker Luis Suarez stands on Copacabana beach in Rio de Janeiro, Brazil. Fifa banned Suarez from all football activities for four months on Thursday for biting an opponent at the World Cup, a punishment that rules him out of the rest of the tournament. (AP Photo)
The Adidas World Cup ad campaign with star players baring their teeth was always a bit iffy when it came to the image of Luis Suarez, considering his history of biting opponents on the pitch.
The shoe company was taking down the Suarez ads after he did it again against Italy, but as of early Thursday, one such poster was still up near Copacabana beach. Amused fans took photos of themselves in front of it appearing to be chomped by the Uruguay striker.
LUNCH BREAK
State employees in New York have permission to take an extra-long lunch break.
Governor Andrew Cuomo posted a letter to US coach Jurgen Klinsmann on Thursday saying he had approved an extra hour for lunch for all state employees starting at noon. That would allow them to watch the entire World Cup game against Germany.
BELIEVE IN MIRACLES?
South Korea coach Hong Myung-Bo. (AP Photo)
South Korean coach Hong Myung-Bo says he believes in his players, not in a higher power.
Facing extremely long odds of advancing to the round of 16 going into a matchup with heavily favored Belgium, the stone-faced coach managed to break a smile when asked if he was relying on any divine intervention to help the team through.
As it turns out, the former captain for South Korea's semifinal run at its home World Cup in 2002 isn't big on that.
"I don't have a religion so I don't ask for divine help. I just look at my players and I believe in them," he said. "Of course, there are players who have a religion and that could be a way that they get help as well."
Earlier in the news conference, he was asked by a journalist is he could provide South Korea with a "miracle."
"We will do what we can," he said plainly. "I don't know if you can call it a miracle but we will have to wait for the results."
MISSING THE MATCH
Germany chancellor Angela Merkel (AP Photo)
Germany's most prominent fan, chancellor Angela Merkel, won't watch Thursday's match between the country and the United States.
Merkel and other European Union leaders will be holding a solemn ceremony in Ypres, Belgium, to mark the 100th anniversary of the outbreak of World War I as the game kicks off. They will then attend a working dinner on the first day of a two-day summit.
The German government says Merkel's evening will be dedicated entirely to working with her European colleagues.
Merkel traveled to Brazil for Germany's opening 4-0 win against Portugal and posed for photos with the team.